U.S. Womens Open. Michelle Shares Major Lead with Amy Yang.
June 21 2014
Michelle Wie
and
Amy Yang
share the lead in a Major, the
U.S. Womens Open
an
Pinehurst #2
.
Michelle Wie
/  Getty Images
Michelle
carded a third round +2 over par 72, but hung on to post her -2 under par total at the
U.S. Womens Open
.
Michelle
has been carrying around the tag of " Best player never to win a Major" for a long time, she said she had never lost the desire to win;
"You know, I never lost it, I think it's a more fun when you work hard. The results show. But I've been very patient, even when I didn't play well. I worked hard. I knew I could get better. But that's the game of golf. I think that's what's so fun about it. It's a challenging game. You can never quite perfect it."
"I love working on my game. I never really lost a sense of determination or drive. It just, it is a lot more fun when you work hard and the results show. I definitely always thought about, always dreamt of it, every time I hold something people make fun of me, because I hold it like a trophy."
"I think this year I just tried to think about every shot, every hole. I think I used to be too worried about the final score and where I was standing. I was kind of too concerned about what place I was in, instead of just trying to play the best I could every hole. That's kind of what I'm trying to do now."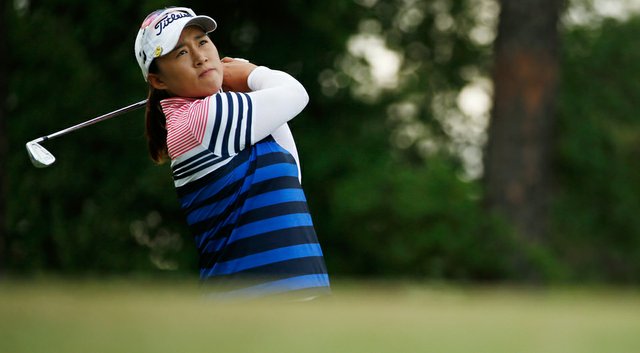 Amy Yang
/ Getty Images
Amy
had a -2 under par 68 to level with Michelle at the top of the leaderboard,  Amy prepared for the demands of the
U.S. Women's Open
at
Orange Tree Golf Club
, the home of
Bubba Watson
;
"I played there almost every day, it helped me a lot, driving off the tee. It's really close from my house, too, so I go there all the time."
"I played really solid, my shots were better the last two days, and I had really good speed on the greens. Just very good today
.

 
I think it's going to be a fun round. I'm also good friends with Michelle, so I think it's going to be a good round."
Third place is shared by four ladies, all at +2 over par for the competition, low round of the day went to one of them,
Juli Inkster
.
Juli
is playing in her last
U.S. Womens Open
, and would love to win it; "
You can dream all you want, but the bottom line is you've got to come out and make the shots. So, tomorrow, I've got to come out and make the shots. And if I'm tied for the lead coming up eighteen, then maybe I'll think about it.
"I've got a long way to go. I'm just going to enjoy the moment and hit a few balls and see what happens."
Joining
Juli
on that +2 score is;
Stephanie Meadow
,
Na Yeon Choi
and
Minjee Lee
.