U.S. Womens Open. Michelle Makes a Move.
June 20 2014
Michelle Wie
makes a mighty move in the
U.S. Womens Open
.
Michelle Wie
/Getty
Michelle
shot a second round -2 under par 68 to lead the
U.S. Womens Open
at -4 under par at
Pinehurst #2
. That gives her a mid-way lead of three shots over the field;
"I can't complain. End of the day yesterday I was thinking if I just did this again, that would be nice. But always finishing with two birdies is always great. It's a grind out there. It's not easy. Really grateful for the par putts that I made and some of the birdie putts that I made. I can't complain, I'll take it."
"I'm just going to go out there and have fun, I'm really grateful for the opportunity that I have. Being in contention, having the clubhouse lead for now, I'm just really excited for the weekend. I'm really excited that I have chance and I'm going to have a lot of fun this weekend."
In second place is
Lexi Thompson
, she also carded a -2 under par 68 today, giving her a -1 under par tournament total.
Lexi
was very happy with her performance today;
"Today went very well for me, I just stayed within one shot at a time and did my routine and had fun in between shots. Not really, didn't really get stressed out about the bad shots, just went to the next one, go find it and I think that's all about U.S. Women's Opens. You just have to stay patient and there was a few birdie holes on back nine for me, on my second nine. So I knew I could make a few birdies there."
Tied in third place on even par for the two days are,
Amy Young
,
Minjee Lee
and
Stacy Lewis
.
Stacy
slipped back recording a +3 over par second round, poor
putting
was one of the problems;
" I didn't hit the ball very good to start, then the putting just didn't help. At a U.S. Open you're going to have to make some five and  six footers, and that's what I didn't do today. I hit some bad iron shots but I didn't leave myself in that bad of places, I just didn't putt very good, but I played really good the last five holes. So I hung around and that's what you've got to do at this tournament."
"I like it when you've got to hit shots and think your way around and be patient. I like having those driveable holes, just to make it a little bit fun for everybody and kind of switch it up. But the USGA will keep doing that, they will keep switching things up. I hope it's harder. I think four shots on a harder golf course is a good spot to be."
Little
Lucy Li
waved good-bye to the big time, for now anyway, shooting another +8 over par round to miss the cut with her score of +16 over par. She can now go back to being an 11 year-old;
"I don't care about the score, it was a lot of fun. I guess that it was fun because I had two great playing partners. They were really nice. I guess because I did a good job of staying patient and going to the next shot and not caring about what happens."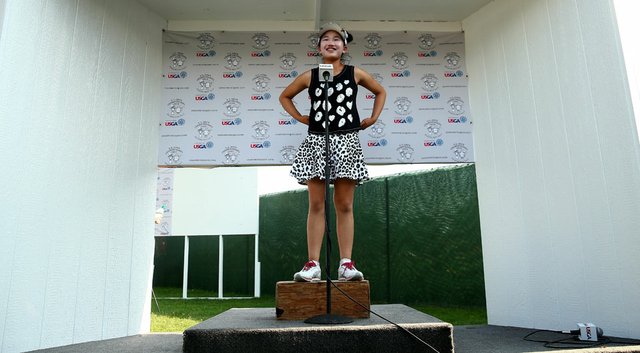 Lucy Li /
Getty Images