Memorial Tournament, Casey Leads, Rory; 63 to 78 ?
May 30 2014
Paul Casey
leads the
Memorial Tournament
as
Rory McIlroy
goes from 63 to 78.
Paul Casey
/ Getty Images
Paul
opened up a gap at the top of the
Memorial Tournament
leaderboard as he recorded another -6 under par round of 66, giving him a three stroke lead over the field at -12 under par. He was definitely over the moon with his excellent round;
"I was ecstatic with the way I played, there was a couple of mistakes in there but that's Muirfield Village. It's a tricky golf course and you don't need to do a lot wrong to make a mistake."
"All I focused on was just trying to hit fairways and give myself great birdie opportunities, and just take my chances where I could and pay respect to the golf course where I had to and see what happened."
Bubba Watson
is three shots back, occupying second place on his own at -9 under par, following an erratic round of -3 under par 69. He managed to compile 5 bogey's, 6 birdies and 1 Eagle in a topsy-turvy round, even playing one shot off the tarmac path. He said it is all a learning curve;
"It's a learning process of how to be a Masters champion, how to deal with the pressures of that and also the pressures of being a dad for the first time. Right now I'm handling it, and I understand what it takes to be a dad and husband."
Third place belongs to
Chris Kirk
, at -8 under par, after his -2 under par round of 70.
Martin Flores
and
Hideki Matsuyama
are tied for fourth at -7 under par.
Rory McIlroy 
totally collapsed, signing for a second round of 78, he thinks it is not too disastrous;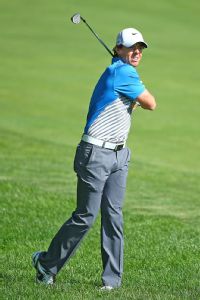 Rory
/ Getty Images
" I missed fairways; that was the big thing, I didn't realize how thick the rough was until I got in it today, it's thick. I hit a decent drive on 10, was just in the rough, couldn't get to the green, made bogey there. And then I just kept missing fairways and making it tough for myself. And obviously that little three-hole stretch -- 13, 14, 15 -- didn't help. Take those three holes out of it, then it wouldn't actually have been that bad a day."
"These little runs I'm getting on where it gets away from me, I was able to avoid that last week. Not so much this week. It's not disastrous, even though I had such a bad day, I'm still in with a chance, depending on what the guys do this afternoon. So going into the weekend, not exactly where I want to be. But could be worse."
Phil Mickelson
carded a -2 under par 70 today, to at least make the cut, but his poor form really continues;
"I've had a little rough go, although my game feels good, I still have some challenges mentally and finishing the round yesterday, that's a great example there. If I finish that round off, I'm up there top two or three. So it's little things like that, that are making the big difference between where I'm at, 30th, and top 5."
My game is feeling good, it actually is feeling good. I just have some challenges, and I'm glad I'm playing this weekend. It will give me two more rounds on a good golf course to see if I can have something to build on."