Crowne Plaza Invitational at Colonial. 4 Way Tie at the Top
May 24 2014
 David Toms, Chad Campbell, Chris Stroud and Hideki Matsuyama are all tied at the top of the Crowne Plaza Invitational at Colonial.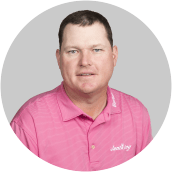 The four-way leaders / Getty Images
These four 
 four share a one-shot lead at -7 under par,on a bunched-up leaderboard, going into Sunday's final round of the Crowne Plaza Invitational at Colonial.
David Toms, the 2011 Champion, carded a 5-under par 65, and Hideki Matsuyama shot a marvelous -6 under par 64. Chad Campbell a -2 under par 68 while Chris Stroud signed of a modest -1 under par 69.
David
knew he had to do something special to get into contention, playing alongside Brendon Todd is good for him;
"I needed a good round to get into contention, that's what I've done, so I look forward to tomorrow. 
It seems like every time we're paired together, we both look pretty solid. I know he was coming off a pretty good high last week. It was just a good, positive day."
Despite his low round today
Hideki
seems to think he will need to go lower tomorrow;
"Gradually, week by week my game has gotten better, I feel like I can compete now, especially to shoot 6-under today and be in contention. I'm going to have to shoot lower than that tomorrow, but I'm going to do my best."
Adam Scott
is fighting hard to keep his
World Number One
status, but not thinking about
Henrik Stenson
who is trying to pass him this week;
"I can only worry about my golf here, worrying about that isn't going to help me at all. It's all very tight, we know that. I'm happy to have gotten to No. 1. I hope it's not such a short stay."
"I might have been forcing it a bit hard the last few weeks to play too perfect, that's not how you play golf. Today was nice. It was a good, solid round."
"It's exactly how I wanted to come out today, the swing was in a good spot right from the get-go. That's what I've been trying to do, just free it up this week and swing and hit my shot, and I did. Everything went according to play on the front. Unfortunately, just couldn't keep it going for the 18."
Adam
is currently at -5 under par, just two shots off the top. Round of the day went to
Kevin Chappel
, he was on the way to recording a 59, but had to settle for a -7 under par 63, for a -6 under par total.
"I used up a lot of luck today, I had two chip-ins and made some long putts. Fifty-nine would have been nice but kind of lost the feel of the putter there on the back nine. All in all, a good day."
"I didn't really think about how special the round could have been until I made the bunker shot in 11. You couldn't ask for more."
This leaderboard is tightly compacted, so the winner will need to produce something special, and Kevin has proved it can be achieved.