The Players. Martin Kaymer Maintains His Lead.
May 09 2014
Martin Kaymer
maintained his lead at the top of the leaderboard at
The Players Championship
at
TPC Sawgrass
.
 Martin Kaymer / Getty Images
Martin returned a second round score of -3 under par 69 on Friday to hold a one-stroke lead at THE PLAYERS Championship going into the weekend with a total of -12 under par. He even birdied the fearsome 17th par three island hole, and said everything is going nicely;
"Everything is coming together nicely,even though I shot 9-under par yesterday. If people want to talk negative about it, I then shot six shots worse. But you can always go in the negative. I see very positive things that I backed up that 9-under par with another decent round."
Jordan Spieth
charged after the leader, shooting a second round -6 under par 66, giving him his -11 under par total, just one shot off the lead. He struck a superb 
6-iron from 184 yards on the par for 14th to within 3 feet, converting another birdie;
"It was a nice break to land and roll to pin-high, because it was a very tricky pin with quite a bit of slope around the hole."
Someone had the temerity to ask
Jordan
if he got bored being in contention all the time, staying calm he replied;
"No, because I haven't won one. You should probably have to win every time in order for it to get boring, but not even Tiger gets bored."
 "I'd like to have a round like that the next two days, very stress‑free."
Russell Henley is in third position, a -1 under par 71 second round leaving him on his own at -8 under par.
Of the six players I mentioned yesterday that would struggle to make the cut, three of them did, and three did not. Missing the cut were Webb Simpson, Louis Oosthuizen and Phil Mickelson.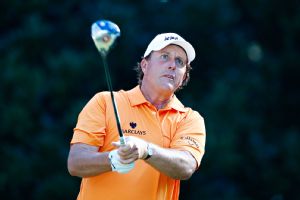 Phil / Getty Images
Phil stated that he had gone soft;
"I don't feel bad about the game, but mentally, I'm just really soft right now. I don't know what to say, I don't feel bad about the way I'm hitting it. I don't feel like the misses are bad. I haven't driven the ball this well ever, for how I feel anyway, but getting the ball to the hole, getting the shots close, getting the putts to go. I just haven't been able to do it. So I feel like it's more of a mental issue and I'll go home and see if I can work on it."
Adam Scott and Brandt Snedeker both made the cut on the number, even par, with Jimmy Walker going one better and getting in at -1 under par. Rory McIlroy also made the cut on the number, even though he shot 42 on the front nine and appeared headed home early until making birdie on the 18th hole to salvage a 74 to make the cut.
Rory said he is struggling to get a score;
"I have struggled to grind, the last couple of weeks I've been able to do well. It's not the position I want to be in, battling back to make the cut, but at least I'm in for the weekend."
Adam needs to finish in the top 16 to have a chance to move past Tiger Woods to No. 1 in the world, and said he would be working hard to achieve that;
"Two rounds like today over the weekend could go a very long way. You never know what conditions will be like and what this course can do. Usually a low weekend around quality golf courses like this go a long, long way, so I'll be grinding very hard."
There is indeed a lot that could happen to alter the course of this tournament, not least having to play the dreaded 17th hole twice over the week-end.