The Championship at Laguna National. Panuphol Progresses
May 02 2014
Thai golfer
Panuphol 
Pittayarat  progresses in The Championship at Laguna National, maintaining his one shot advantage over the field at the end of day 2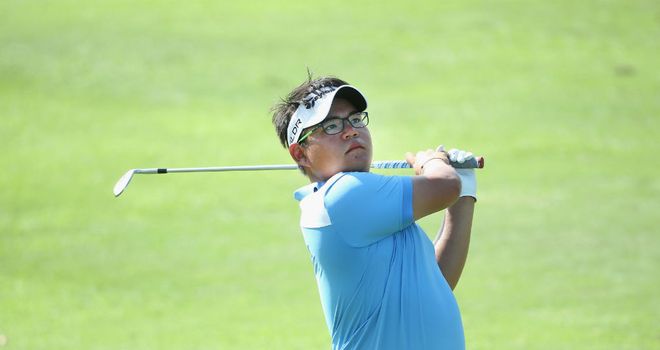 Panuphol Pittayarat / Getty Images
Panuphol
completed his second round at the
National Laguna Golf and Country Club
collecting five birdies and just one bogey, to card -4 under par 68 and a -13 under par total. He said a strong finish was great, and he enjoyed being at the top rather than chasing;
"The two birdies in my last three holes were nice to end off my round. It's nice to be putting myself in a good position heading into the last two rounds. I would rather stay up there than to be chasing the lead actually. I just want to grab my chance and not let it go."
Three players share second place at -12 under par for the tournament,
David Lipsky
,
Felipe 
Aguilar and Scott Hend. 
Felipe
finished his round with three birdies after starting slowly, scoring a -5 under par 67;
"I finished off with three birdies but it was a really cold start today. It took me a while to get the rhythm going and I had a couple of birdies and couple of bogeys. Overall though it was a very good round and the last couple of holes I hit it stiff. I hit it close on 16, made a very good putt on the 17th and then hit the pin on the 18th hole, so I'm very happy." 
"When you chase the lead you have nothing to lose. We'll see what happens this afternoon. Tomorrow the tournament starts on moving day. You need to stay cool and patient here. I'm really happy so far; if someone had offered me this score before the start of play I would have taken it." 
"I don't have to go that deep on the weekend because I think the course will play a bit different and the fact that everyone wants to win will hurt some people. About eight or ten under will probably do it over the weekend." 
Scott
shot the low round of the day, a -7 under par 65, which put him firmly in contention, he thinks the winning score will be a new
European Tour
record;
"I am used to this kind of weather but it still comes to a point where your body just cannot take it and it makes you lose concentration. I'm managing well so far,
t
wo more rounds to go and we will see what happens. After yesterday, I am guessing the winning score will be around -24 to -28. Obviously it depends on the weather as well. I have to keep pushing on. There is no stopping for me. You can't stop, there are too many good players out there."