LPGA. Kia Classic. Lizette and Cristie are Tied at the Top.
March 29 2014
Lizette Salas
and
Cristie Kerr
are tied at the top of the leaderboard in the
LPGA Kia Classic
at
Aviara Golf Club
in
California
.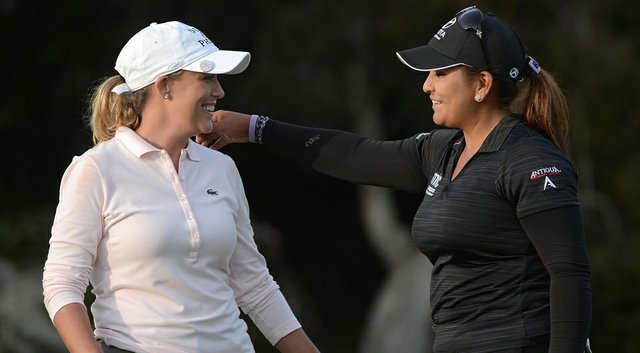 Cristie Kerr
and
Lizette Salas
/ Getty
Cristie
and
Lizette
are tied at the top of the leaderboard  on -10 under par for the
Kia Classic
tournament, giving them a two shot lead going into the final round.
Cristie
carded her third round score of -2 under par in amazing fashion, with some trickery on the 18th. It was  was classic
Cristie
, standing in the middle of the  fairway with an 8-iron in hand, she somehow stood up on her approach shot and watched it fly right, rattling off rocks inside a  hazard. She then proceeded to sink a 60-foot putt to save par,  raising a fist in the air in triumph.
Lizette
mused; "
That's Kerr. I felt great. I felt good. I felt comfortable. I think that's the most important thing is to feel comfortable in the position you're in.  I'm just really trying to capitalize on the par fives, just staying patient. That's really my key this week is to stay patient, even though I'm in trouble, like on number thirteen, where I hit it into the bunker."
"One bogey out of three days is not a bad thing. Overall I handled my nerves pretty well, it was my first time playing in the final group."
Cristie
said was going to consult with her mental guru,
Dr. Joe Parent
, about her apparent lack of focus;
"I'll be right as rain tomorrow. Obviously, it was the worst shot I could have hit and then it was the best shot I could have hit. So go figure, that's golf. It was pretty amazing. It is really one of those moments that you just remember for a lifetime. I was just trying to get it close. Usually that's when those go in."
"I hit two hooks on 17 in a row, that hole owes me tomorrow. That hole owes me tomorrow, big time."
There are four ladies tied in third place at -8 under par, including yesterdays leader
Dori Carter
.
Dori
carded a 64 second round but followed that with 74 today. Joining her on that total are
Shanshan Feng, Anna Nordqvist
and
Ayako Uehara
.
Dori
is still learning;
" I learned that it's been a long process and you have to really, you know, take it hole-by-hole and breath by breath, and utilize your resources"
Anna
thinks the back nine is tougher;
" I started off really solid, I think the back nine is playing a little tougher, but I hung tough and made a silly mistake on sixteen. But other than that, I'm really happy with my round."