HSBC Women's Champions. Karrie Consolidates.
March 01 2014
Karrie Webb
consolidates her position at the top of the
HSBC Women's Champions
leaderboard at the end of day 3 at 
Sentosa Country Club, Serapong Course.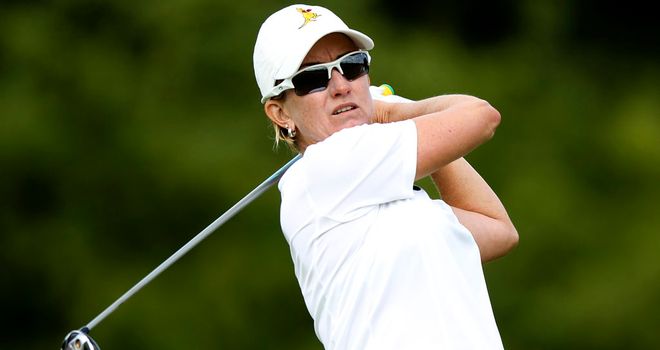 Karrie Webb / Getty
Karrie
shot a third round -2 under par 70, for a tournament total of -11 under par, taking a one shot lead into the final round. She said it was a strong finish that gave her round a good look;
"It was a pretty solid round really, I didn't probably hit it as good as I would have liked but I felt like I had a lot of in between numbers today and I really had trouble a few times picking the right club. So probably more poor decision making rather than bad swing. I only made one bogey out of all of that, and yeah, the front nine had played a little bit easier for me this week and it didn't play as easy today, but I got through it at even par and you know, I finished off strong the last five holes, which you know, really makes the round look really good."
"Just even when I was not giving myself a lot of good birdie opportunities early on, I had to tell myself, it's Saturday and there's plenty of golf left to be played and just be patient and fortunately I listened to myself for a change."
Hot on her heels in second place is
Angela Stanford
, a -3 under par third round of 69 keeps her in contention at -10 under par. She said  it was difficult to keep track of the leaderboard, considering the number of really good players who were making a charge at the top.
"I think you want to finish strong either way, and you know, I think you can look at a leaderboard at this tournament, but it's just a bunch of people. I mean, so it's really not worth looking at it. You just know a lot of people are going to be at the top."
"I think everybody pushes everybody and I don't think players see it as, Asians or dominating or Europeans or the Americans. That's the good thing about our tour is we have celebrities from all over the planet it seems like on this tour and I think everybody pushes everybody. I don't think players see it as they are from so and so. It's just another player and everybody is trying to beat everybody."
Azahara Munoz
and
Teresa Lu
are tied in third spot at -8 under par, just three shots off the lead.
Azahara
  shot the round of the day with her -5 under par 67 and moved into the tie for third, and has given up trying to achieve a great swing;
"I used to work to try to swing a little bit but now I've almost given up on it; my swing is my swing. I just try to make it work. Obviously I know I could make it perfect, but I've been swinging like this for so many years, so I just try to, with what I have, just click on little things that work for me." 
"I think last year, I made the mistake of not seeing my coach for like eight, nine months and I was really struggling. At the end of the year I go to see him quite a lot. We were going to make sure we see each other every five, six weeks max. This off season I went home and took a couple weeks off but then I tried to see him at least once a week, even though I wasn't practicing, at least I wanted to see him; so when I get back to the States because obviously he's back home. And then he's been already a couple of times already to Florida to see me, so I think working with him quite a lot consistently has been really helpful."