HSBC Women's Champions. Karrie is Cruzin.
February 28 2014
Karrie Webb
is cruzin at the
HSBC Women's Champions
at the  
Sentosa Country Club, Serapong Course,
leading by two shots at the half-way stage of the competition.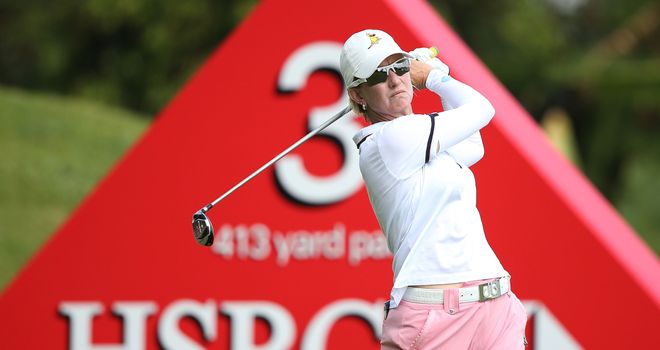 Karrie Webb / Getty
Karrie
shot a second round -3 under par 69 for a half-way total of -9 under par, a two shot advantage over
Angela Stanford
.
Caroline Hedwall
was keeping pace with
Karrie
, right up until the par five 18th hole, where
Caroline
found herself in a difficult position, so difficult that she could not extricate herself from the problem, carding a 7 and dropping back to -4 under par for the tournament. Apart from a few bad swings
Karrie
was pleased with her round;
"A few loose swings on the back nine today which didn't happen yesterday but recovered pretty well from them, only two bogeys and to shoot 3 under, I think I'm pretty happy with that. Anything on the 60s on this golf course is a good day. Thirteen was a pretty soft bogey there, just missed the green there and really wasn't a difficult up and down and didn't get it up and down there. Made a good up and down on the next for par, and then I hit it in the water off the tee on 15, so actually made a really good bogey in the end."
Angela
loves
Singapore
, she won this event last year, when it was played at 
Tanah Merah Country Club. Angela
 also signed for a second round of -3 under par 69, and remains in contention, just two shots adrift of the lead at -7 under par;
"I've always loved coming to Singapore, the people are so friendly and it's just a great place to be for the week. And HSBC is obviously an amazing host. It's just a nice place to be, it's a great week. I just think it's whether you're comfortable, good meals at night. When I'm in the States I control my environment a little more than when we're here. But they've done a great job for us. I guess I can throw in the Air Weave thing. The beds have been great. I didn't know what to expect but that's been a lot of fun to get to sleep on that every night."
In third place at -6 under par is
Teresa Lu
, who carded a second round -2 under par 70.
Caroline
explained what happened on 18;
" It was just a bad lie and I was trying too hard to get it close, I don't know, it was just one of those moments when you want to walk off the golf course.  I was just playing solid golf and made a couple of birdies. I felt really good about my game today it is just sad that I finished that way with two three putts and then this finish on 18."