Honda LPGA Thailand. Anna Is Still In Charge
February 21 2014
Anna Nordqvist
is still in charge of the
Honda LPGA Thailand
at
Siam Country Club, Pattaya Old Course
in
Thailand
.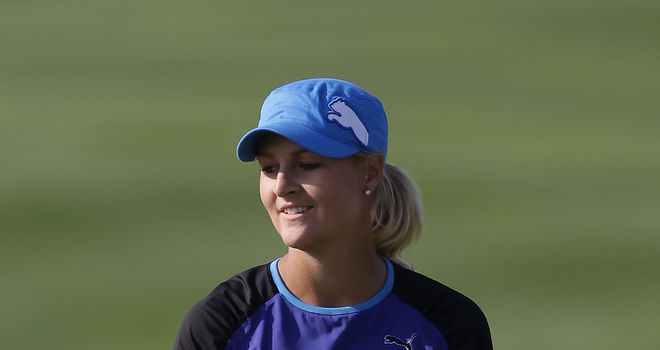 Anna Nordqvist / Getty
Anna
was pleased overall with her round which included three birdies and three bogeys, for even par 72, she remains at -6 under par for the tournament, and still on top of the leaderboard;
"There were some tough pins out there, a lot of them were on ridges, and I felt like I hit a lot of good shots and kept spinning off the ridges. Not much you can do. Felt like I hit it solid. A little disappointed to finish with a bogey on the last. Overall been hitting it great this week. Today I felt like all things were good. Just couldn't get any putts to drop."
 This is a position I been practicing to be in, halfway through and there are 36 more holes, but I'm happy with the way I'm playing. Hopefully can make a couple more putts over the weekend and that should take care of it
.

 I think we all expected it to be warmer. Today with a little bit of rain and overcast it felt like I still had a lot of the energy leaving the 18th green."
There are three ladies tied in second place at -5 under par,
Azahara Munoz, Sandra Gal
and
Julieta Granada

.

Azahara
and
Julieta shot the low rounds of the day, both recording second rounds of -4 under par 68.
Sandra was -2 under par 70, and was happy with that effort;
" I think I had a pretty smooth front nine. I think I shot 3 under I think on the front. The back nine I thought it was going to keep going, but it played a little bit tougher and I missed a couple greens. I made a lot of really good up and downs, which was the key to my round today.  I'm pretty pleased with the day."
Julieta
holed out twice, with lob shots;
" It was interesting. Had a whole lot of rain on the front nine, so had to keep our cool and keep being concentrated. But I holed out twice, two lob shots today, so that was nice. It was very welcome."
Early morning showers left the greens softer than usual and removed any extra roll down the fairways, making the course play harder.
Stacy Lewis
and
Michelle Wie
are tied in fifth position at -4 under par. Stacy shot a second round -3 under par 70, while Michelle carded a +1 over par 73.
Stacy
commented on how soft the greens were;
"Yeah, very soft, there were a lot of back pins today, so it was hard to get the ball to stay up on those back shelves and get yourself to fly them all the way back there. Just had the rain to start and just changed the way the golf course played, kind of took me a couple holes to adjust to that. Once I did I hit some good shots. You just had to be a lot more aggressive, fly back to holes we normally can't do that. Just played completely different than it ever has." 
If the conditions stay like they were today, low scoring is going to made very difficult.