AT&T Pebble Beach National Pro-Am. Walker Wins
February 10 2014
Jimmy Walker
wins the
AT&T  Pebble Beach National Pro-Am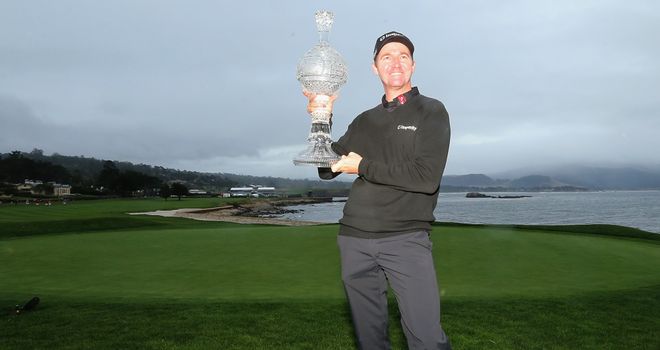 Jimmy Walker / Getty Images
Jimmy won his third career victory, lifting the trophy at the AT&T Pebble Beach National Pro-Am, carding a nervy final round of +2 over par 74. His total score of -11 under par was good enough to keep him on top of the leaderboard and grab the title.
Jimmy mentioned gaining the winning habit and also the drama on the last green;
"I don't know if it was just a matter of doing it once and then having it happen again and then happen again. I've always felt like I could win out here, and I think that's what you have to believe to be out here, that you belong and that you can win. And finally, it happened. And it's cool that it's happened a couple more times. It's drama, man, it was too much for me. I hate three-putting, I had two of them back there, and definitely didn't want another one on the last. I just go out and play golf, this is what I want to do and I've worked really hard to do it, to be here, and to be in this position and it's really cool."
Dustin Johnson finished tied in second place, just one shot off the lead at -10 under par, and it was his -6 under par 66 round that was giving Jimmy the jitters. Along with Dustin at -10 under par  was Jim Renner.
Jim was among the Web.com Tour graduates, this result has  earned him a spot at the Northern Trust Open next week and he will be in better position to get into events over the next couple of months. Apart from this second place Jim and John Harkey Jr who is  the CEO of Consolidated Restaurant Operations Inc, won the Pro-Am portion of the tournament;
"It was pretty big, I just knew I needed a good week. My back was up against the wall, and that's something I'm familiar with and I don't mind it. But I'm happy that I freed myself up a little bit for the rest of the year."
Jordan Spieth had to return to the course early Sunday morning to complete his third round, suffering  six three-putts and carding a +6 over par 78. He faced Pebble Beach Golf Links when it was at its most vicious throughout the third round, though he did manage to bounce back with a bogey-free -5 under par  67 final round to at least tie for fourth, with Kevin Na, both at -8 under par.
Had a torrid time myself on Paraparaumu Beach Golf Links yesterday, cold fierce winds, and rain, in what is supposed to be the middle of summer. These cold weather patterns are confusing me, didn't Al Gore win the Nobel Prize for a slide show on Global warming. Another political lie.