Joburg Open. George Grabs His First Title
February 09 2014
George Coetzee
grabs his first title by winning the
Joburg Open
at
Royal Johannesburg and Kensington Golf Club.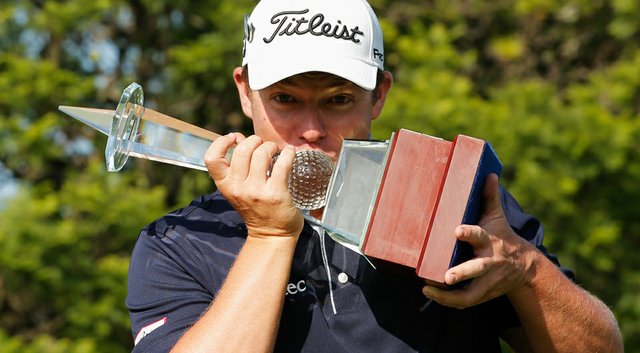 George Coetzee and first Trophy/ Getty Images
George put together a final flawless round of -6 under par 66, for a tournament total of -19 under par, a comfortable three shot victory on the East Course.
This was his 107th attempt at victory, and said he was lost for words;
" I'm ecstatic, I don't know what I'm feeling , I'm lost for words. I've been waiting a while and I started doubting, so I'm very happy. I got to share this with my family and my friends. It was my mum's birthday yesterday and I wanted to do it for her as I forgot to buy her a present!" 
As I remarked yesterday sometimes Lady Luck lends a hand at winning a tournament, George had his slice of luck;
"You need a little bit of luck to win these things. On fifteen I pulled my driver and that was the decider, because it should have gone into the water but instead it hit a tree and bounced back into the fairway. You always have this plan in mind for yourself when you're coming down the stretch and it never goes the way you think it will. I'm very happy to have finished the job," 
George also wins one of three places at The Open Championship, which were offered up as part of the new Open Qualifying Series that was incorporated into the Joburg Open.
Tied in second place, at -16 under par were  Justin Walters, Jin Jeong,  and  Tyrrell Hatton, who was unfortunately edged out of a place at The Open, based on world ranking.
Tyrrell was naturally disappointed to come so close;
"Beginning of the week if you gave me second place I would have put my feet up and taken it, but given the situation I'm a little disappointed. It's bittersweet, though, because I've earned a place at The Open and that's the major we've all dreamed of playing in since we were kids."