Omega Dubai Desert Classic. Great Gallacher Defends Title.
February 02 2014
Stephen Gallacher
defended his
Omega Dubai Desert Classic
title in great style at the
Emirates Golf Club
.
Stephen Gallacher and his retained Trophy/ Getty Images
Stephen amazingly turned on another tremendous back-nine fight back to make sure he became the first player to ever successfully defend the Omega Dubai Desert Classic title. He started the day with four bogey's on the front nine, and then produced four birdies on the homeward nine to finish with a final round of even par 72. The scoring was nothing like as spectacular as the seven birdies and an Eagle he produced to cover the same stretch in just 28 shots on Saturday, but the total of  -16 under par was good enough to hold on;
"I never do anything easy I'm afraid, what a day, my emotions are gone. I never really played the front nine that well all week. I don't know, it was a carbon copy of yesterday apart from I holed a couple of putts for par and got a bit lucky yesterday but today I was in bushes and trees and stuff. I just kept saying to myself, 'stay patient'. I played the back nine well and no one was really running away with it at the time. To win it on the 25th anniversary, it was a good field with all the champions playing, makes it even more special." 
Getting into the Worlds top fifty was one of Stephen's goals this year, he has now achieved that;
"That was my goal at the start of the year. I knew I was only a win away from getting into all the events like the WGC Match Play and the US Open and if you have aspirations of getting into the Ryder Cup you have got to be in them, so I am delighted with that."
Second place belonged to Argentine Emilliano Grillo who fired a final round of -6 under par 66, which leapfrogged him up the scoreboard, finishing just one shot back at -15 under par overall. He said he was quite happy with the way he played today;
"Apart from the second shot to 18 everything was quite good, the second shot went a little bit further than I wanted and got lucky, then I got lucky with the big putt. I am quite happy with how it went today, it was a good round overall. I left some putts out there but the one on the last gave me the ones I missed."
Tied in third place at -14 under par were Romain Wattel, who also carded a last round of -6 under par 66, and Brooks Kopeka with a more modest final round of -2 under par 70.
What happened to Rory McIlroy I hear you say. Well poor Rory slumped to a final round of +2 over par 74 to drop out of contention, he finished with a -12 under par score. A poor last round where he started just two shots off the lead.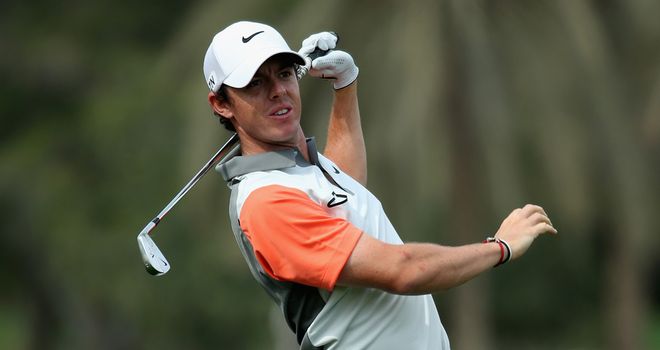 Rory and a one-handed shot / Getty Images
"It was just one of those days, I think anything that sort of could go wrong did. Okay I hit a couple of loose drives, but I didn't really get away with them or stuff like that. The golf course played a lot differently today, the greens were a lot firmer. On the rare occasions I got the ball close, I didn't make any putts, so it was one of those days."
"I was struggling to read the greens for some reason, so I got  JP  to read them for me on the back nine and holed a couple more. When the greens get this firm they change color a little bit and it was very hard to see. Everything I read was straight even though it wasn't, I just couldn't see any movement at all.
"I thought if I could get to sixteen under it would be good enough and it turned out that it was as that's what Stephen got to. I just wasn't able to play well enough to get there."