Humana Challenge. Reed Romps Ahead.
January 17 2014
Patrick Reed
romps ahead in the first round of the
Humana Challenge
at the 
PGA West
(Palmer)  course in
California,
in this three course event
.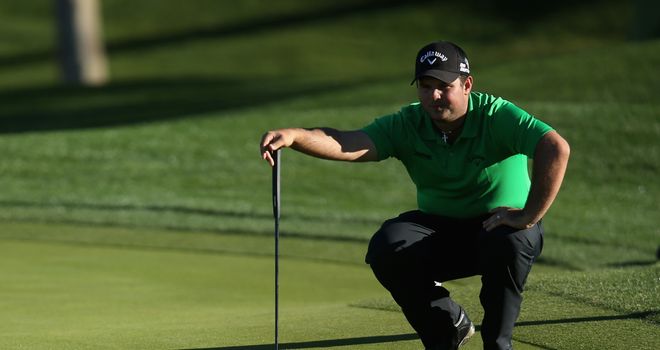 Patrick Reed / Getty
Patrick
shot a bogey free -9 under par 63 in the opening round of the
Humana Challenge,
saying the
Palmer Course
is in perfect shape  and the putts just kept rolling in;
" The course is in perfect shape, the rough isn't very high, the fairways are perfect and the greens are rolling very true. I started out a little struggling with the driver, had some lefts in it, but luckily I missed it in the right spots. I was really confident with my irons, kept hitting greens and all of a sudden, 10-, 12-, 15-, 20-foot putts started going in. I felt like there were some things I could have improved on, but at the same time whenever you tap in for par on the last hole and shoot 63, you're pretty happy," 
Four players shot rounds of -8 under par 64, they were,
Ryan Palmer  
on the
Palmer Course
,
Justin Hicks
and
Daniel Summerhays
on the
Nicklaus Course
, with
Charley Hoffman
matching their scores on the
La Quinta Country Club
course.
Ryan
admitted he was hitting it pretty close, not making a lot of long putts;
"I wasn't making a whole lot of long putts, just hitting it close."
Justin
said he was just trying to give himself as many opportunities as he could;
"Just trying to give myself as many opportunities as I can." 
Daniel
was just having fun;
"It's fun to make birdies, that's one of the fun things about this tournament is that the courses are a little easier. They're in perfect shape, which makes them almost even easier."
Charley
just loves the
La Quinta
course;
"I love this golf course, I think this is probably one of the better tracks we play all year when it's said and done."
Zach Johnson
is one of seven players carding -7 under par first rounds of 65. Zach was on the
La Quinta
course, and said it was his good wedge play that helped him reach his target, and the greens are just perfect;
 " My wedges are clean, I've worked on it a lot. I've worked on it in a number of different ways, but the main way is really just trying to dial in yardages and trajectories. The greens over there are, I don't even know how to explain them, it's like carpet. I mean, they're just so good. I don't know what they do over there, but they look artificial. They're like this every year, but they're as good as I've ever seen."
This is just round one and with three courses being played it will some time before we get a clear picture of what is really going on. Being a putter manufacture I hope good putting will be the key to winning this week.