Hyundai Tournament of Champions. Dustin Tied at the Top
January 06 2014
Dustin Johnson
is at the top of the
Hyundai Tournament of Champions
, in a three-way tie, and the end of play on day three.
Dustin Johnson
/ Getty Images
Dustin
shot a third round -4 under par 69, to share the lead at the
Hyundai Tournament of Champions
with
Webb Simpson
and
Jordan Spieth
, all at -14 under par.
Webb
had a -5 under par 68 round, while
Jordan
equalled
Dustin's
effort of -4 under par 69.
Defending Champion
Dustin
thinks if he plays the par fives well he is in with a good chance;
"I need to go out and just take advantage of the par fives. Got to play those well, and then, yeah, I think it's going to take 6  or 7 under. That would be my guess. You can shoot that in any weather out here pretty much if you get it going."
Webb
had an emotional round, his usual caddie and friend, Paul Tesori, was in a hospital in Florida, with his  newborn son Isaiah in intensive care. Paul tweeted that he tuned into the telecast at Kapalua in time to see his son's name on Scott's hat.
"Paul sent me a text this morning, just told me he loved me and wanted me to go out and fight as hard as I would any other day. And that's what Teddy and I did. I felt like we were out there playing for Isaiah. Paul needs something to watch there in the hospital. It's been a long few days, so hopefully, we gave him something good to see on TV. But it was tough. I was thinking about him a lot out there."
Jordan
was really happy with his first ever 54 hole lead,  didn't lose patience over a few bad breaks;
"This is a new position for me, I've never slept on a 54-hole lead. I'm excited about it and it's going to be a fun time tomorrow to get to play with Webb for the third time this week.  I got to the seventeenth tee box and thankfully, that view kind of calmed me down a little bit and I was able to snag a birdie there."
Alone in fourth place is
Zach Johnson
, who had a three shot lead at the start of play. On moving day
Zach
moved backwards, shooting a +1 over par 74, for a total of -12 under par.
Zach
still said he was pleased with the result;
" I feel good, I feel good about my game and I feel good about the way I'm going about the day and the way Damon and I are attacking it."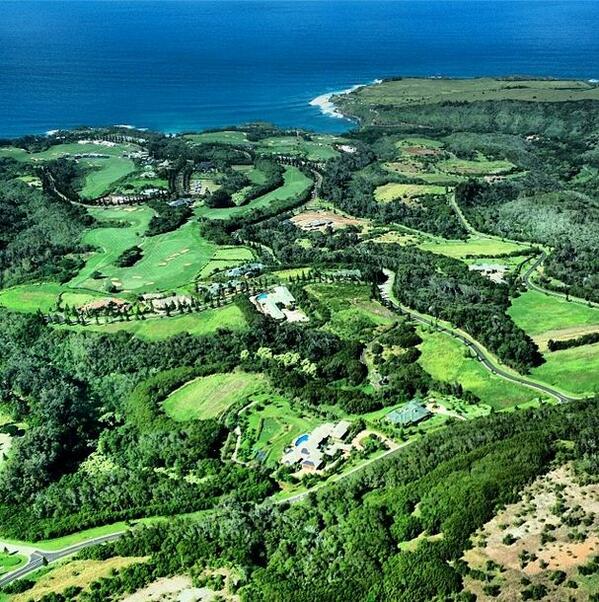 Plantation Course at Kapalua / a golf fan