DP World Tour Championship. Stenson's Star Still Shines.
November 16 2013
Henrik Stenson's
star still shines in the
DP World Tour Championship
as he takes a one shot lead into the final round at
Jumeirah Golf Estates
,
Earth Course
.
Henrik Stenson
/ Getty Images
Henrik
is sticking to his game plan to become the first man to win
The Race to Dubai
and the
Fed
Ex
Cup
 in the same season. Saturday he shot a third round -5 under par 67 to maintain his lead at the top of the board, at -17 under par. He knows he does not necessarily have to win here to win the
Race to Dubai
, but he see's no point in easing up;
"I am trying to avoid all that, I know I can win The Race to Dubai even if I don't win here, but why not try my hardest to win this tournament? If I do I know that both trophies are coming home with me. It's a great achievement to be the one who wins the most money throughout the year and I would love to emulate Robert. The guys are going to try their best to attack but if anything it makes me try even harder.They are the ones that need to overtake me so I am trying to stick to my game plan. It's working so far so I don't see any point changing."
Second in this tournament is
Victor Dubuisson
, a winner already this season, beating
Tiger Woods
en-route to picking up the title at the
Turkish Airlines Open
.
Victor
had a  marvelous -8 under par 64 third round and definitely keeps the pressure on
Henrik
if he wants this trophy.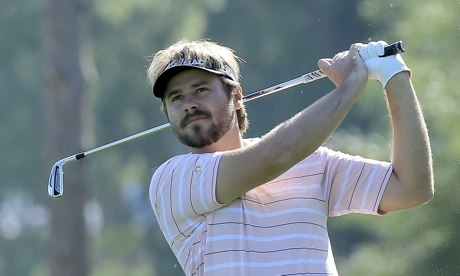 Victor Dubuisson
/ Getty Images More importantly for
Henrik
he has a four shot lead over
Ian Poulter
, who needs to win this title if he wants to win
The Race to Dubai
himself.
Ian
is currently tied in third place with
Alejandro Cañizares 
at -13 under par.
Ian
has a special motivation for beating
Henrik
here, he has a personal  100-dollar bet with
Henrik
, at 10/1, that he will overtake him, with the loser having to act as the winner's personal waiter on a night out as well;
"The odds would be significantly shorter now and I have put myself in position to try to kick his backside tomorrow. It's fun hunting Henrik and if I can get off to a decent start it's going to be great on the back nine. Being European Number One would be a huge highlight in my career."
The other two who could upset the odds in the
Race to Dubai
are 
Justin Rose
and
Graeme McDowell
, who can still deny
Henrik
the title with victory here. Justin is at -11 under par and Graeme - 8 under par after both shot third rounds of 68.
Graeme
says he is still in the competition;
"Alive and kicking, hats off to Henrik, he came here this week and is doing exactly what he needs to do. He has been the best player in the world the last six months and he needs to slip up tomorrow and I need to mount a massive challenge. I have not done much better than 68 round here before and I will need to do so tomorrow. I have not played my best the last three rounds but I am proud of how I have hung tough."