Charles Schwab Cup Championship. Fantastic Fred Wins. Kenny Crowned Champion.
November 04 2013
Freddie Couples
won his first event this year, the
Charles Schwab Cup Championship
, with a last round -2 under par 69 for tournament total of -17 under par, a six shot victory.
Kenny Perry
won the year-long points competition for  the
Charles Schwab Cup
.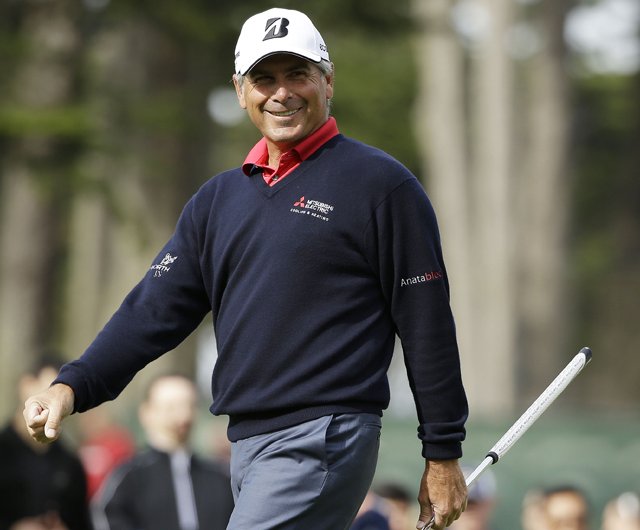 Fred Couples
/ AP
Fred
was happy with his win;
" It's great to win. It seems like four years ago, now I have 60 days to lose all my momentum. I'd like to have the kind of year Kenny had, the goal is to win the Cup. The goal is to play. This year, I wouldn't call it a waste, but it was a waste as far as not winning. This week was different, I did not miss many shots. I got the lead and I kept it. I'm not a fierce competitor but I love the competition. Just winning, even if it's a club championship, you're thrilled."
Kenny Perry
/ Getty Images
Kenny
remarked on his magical season;
" It's been a magical season. This is my highest accomplishment. I've been close to winning a major on the PGA TOUR and to finally win a few this year, it's the things dreams are made of."
Kenny
spoke about the challenge from
Bernhard Langer
;
"Starting the week I said it was 29 against one, and like I was saying, I was trying to be the mayor of San Francisco trying to shake all the players' hands. I just said, I need one of you to get hot this week and keep Langer off of me. And it was so funny he played right in front of me today, Bernhard did, and I came to the ninth hole, which I knocked a driver and 5-wood on the green, and I looked over at the board and he shot - 4 under on the front nine and I'm thinking this guy just won't go away. We'll cherish this year because, you know what, not too many people have one of these. To be able to say that I did it once in my career is a dream come true, to finally, here at 53, to achieve something pretty significant in my golfing career. I've had the lead since June or whenever and every week we talk about the Charles Schwab Cup and I'm finally glad it's over, I don't want to talk about it no more, I got it."
Bernhard
finished in second place, a last round -4 under par 67, for total of -11 under par, in reality a long way from actually winning the tournament, which he needed to do to beat
Kenny
to the overall points title. Tied with
Bernhard
in second place this week were
Peter Senior
and
Mark O'Meara
. As things turned out without
Fred
winning this week, there would have been a play-off for the overall title. Apparently
Kenny
was very thankful that
Freddie
turned on his super dominating performance.