Another Rain Fest. U.S. Open at Merion.
June 12 2013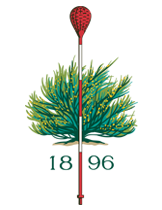 Heavy rain at the 
U.S. Open, at Merion, 
 for  the first day of practice has havoc among the players.The course was eventually shut down for good later in the afternoon. This is a worldwide recurring theme this year, with weather affected events taking center stage. Events all over the World have been badly disrupted by poor weather conditions, especially copious amounts of rain.
This is Merion
/Photo / AP
Ernie Els
stated;
" After the rain this morning, it's going to be very sloppy now,you're not going to see a firm U.S. Open this year, I'm sorry. I don't care if they get helicopters flying over the fairways, it's not going to dry up. We're going to have a soft golf course this week, all week."
The course at
Merion 
received more than 3 inches of rain on Friday, and Monday's downpours, all three of them , didn't help the situation.
Mike Davis
the
USGA
executive director said;
"This golf course is not built on sand, so it's got the heavier soils, but it is maybe the best draining golf course I have ever seen. If you walk this course, you know there's hardly any flat lies at Merion."
Adam Scott
t
hinks with the soft fairways, it becomes more of a target.
"Obviously with it being a little soft, it becomes a little more simple than what it was, the ball is just going to stop where it lands."
2005
 US Open champion
Michael Campbell
has been paired with 54-year-old
Jay Don Blake
and
Brandt Jobe. Kiwi Steven Alker  is in the fifth final group off the tee, playing with Australians Alistair Presnell and Mathew Goggin.
Asides;
Sergio
and
Tiger
have come close to agreeing a ceasefire over they're little spat, but although there has been a hand-shake on the practice ground, nothing is yet set in concrete, Sergio saying;
Sergio
and
Tiger
/ AP
"Obviously we saw each other yesterday on the range, I was hoping to meet him after the round, but he was gone after the round. The weather obviously didn't help. And this morning I was here early, I didn't see him around. Obviously he got here later on, but I did leave him a note, a handwritten note, and hopefully he can take a look at it. I understand that it's difficult to meet up and stuff. So hopefully we'll be able to do it. If not, at least he has read the note and he's happy with that. I mean the note is for him, so if he wants to show you, then he can, I don't have any problems with that. But I am not going to be the one showing you. The people have made me feel very good out there, the last couple of days, so hopefully that will continue throughout the week and the only thing I can do is give my best effort and hopefully that would give me a chance."
Tiger's
reported comments;
"No, we didn't discuss anything. Just came up and said Hi, and that was it. It's already done. We've already gone through it all. It's time for the US Open and we tee it up in two days."
So I guess the spat is still simmering, lets play
Major
golf.