PURE SILK-BAHAMAS LPGA Classic. 1st Round Suspended, Darkness Falls.
May 25 2013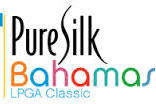 The
Pure Silk Bahamas Classic
has had play suspend in the first round on the 
Ocean Course
at the
Atlantis Resort
due to torrential rain. Some of the holes on the course are totally unplayable after 12 inches of rain fell on Tuesday night and Wednesday morning. A very strange occurrence for a place named
Paradise Island
.
Darkening Skies / Gabe Roux Course maintenance crews are working around the clock,  in an attempt to pump the extra water back into the ocean, but it is a time-consuming task. The 
LPGA
finally admitted defeat and canceled play on Thursday and also announced that 12 holes would be played on Friday for the first round. The schedule for Saturday is to play a second 12 holes. A decision will then be made on Saturday whether or not to play the full 18 holes or finish with a final 12 holes on Sunday. The twelve holes that will be played are;  10-6-7-4-5-11-12-13-14-2-3-8. There are three Ladies tied at the top of the board at the moment,
Mariajo Uribe
,  
Heather Bowie Young
and
Silvia Cavalleri
are all level at -6 under par. This is only one shot ahead of those in second place in this shortened format of the game with only 12 holes being played.
LPGA Commissioner Michael Whan
had this to say;
" When you have a situation like this, you bring everyone together that you trust and you make the decision. It's fair if someone doesn't like the decision we made, but I think this outcome is a lot better than any other alternative. Everybody who plays the next three days will play the same course."
Juli Inkster
thinks everyone should just get on with it;
" I think we need to try to play for Pure Silk and for Bahamas Tourism. This is something that has never happened before and it probably never will happen again. I think we should play, money should be official and everyone should get on with it."
Stacy Lewis,
the
Rolex Rankings
number two said there was good and bad to the situation;
" There is good and bad to the situation and you have to decide if your glass is half full or half empty. At the end of the day, we'll all play the same holes, the same course and be scored the same way. That's a golf tournament. It's all about your perspective on it, If you go into it thinking, 'this is dumb' or 'we shouldn't play' then you probably won't play very well. I think, for the sponsors, we need to play. It's a first year event and we need to get out there."
Well spoken Stacy, lets play. Both Juli and Stacy are at -1 under par.