Beckham The Best. Retires From The Game of Football
May 18 2013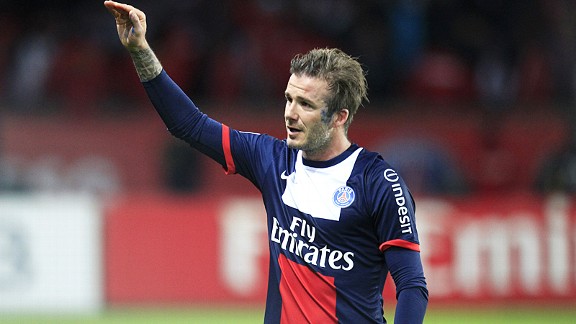 David Beckham
waves
Good-Bye
to the
Paris Saint-Germain
Supporters. / PA
David Beckham
was undoubtedly one of the Best
English
players to grace the football pitches of the World in the modern game. He gave his all for his Country, putting in some marvelous match winning performances along the way. I for one was certain
England
would once again win the
World Cup
with David playing in the team. Sadly that did not happen, but it does not in any way diminish the contribution that David has made to football, for his country and for all the teams he played for.
Paris Saint-Germain
won the
Ligue 1
title with David in the team, he only signed for them in January.
David
was full of emotion after the whistle, explaining that he loved
Paris
and hoped to remain in the City in his playing retirement. He hinted that he might even stay at
Paris Saint-Germain
, in some other capacity;
" To finish my career here is special. Paris is the most beautiful place in the world. I'm sad to go. I feel a lot of satisfaction and emotion. Tonight is the end of my career, for sure. I've done my time at all the clubs where I've been, be it Manchester United, Real Madrid and LA Galaxy. Now, we'll see what happens, after a 22-year career, I'm going to take a few months off to relax with my family. I said before that, one way or another, I would stay in Paris. It's special for me here and I want to continue to be part of PSG, one way or another."
We all know the
Super Star
side of
David Beckham
, but he is also just a regular guy, team-mate
Mamadou Sako
had this to say about David Beckham;
"I was lucky to be with him here in the capital, is there anything more beautiful? It was a very emotional exit, especially given the scope of his career. He brought us his joie de vivre, and above all the simplicity of life both on and off the pitch. A little anecdote, for example, we organised a barbecue at Sylvain Armand's house, he was called, and he came to eat sausages with us in Sylvain's garden!"
I guarantee the world has not heard the last of
David Beckham,
I am certain he has a lot more to offer the world.