Putting Updates, Ernie and Phil making Changes
April 03 2013
Ernie Els
,
The Open Champion
, is going to use his
Belly Putter
for the last time at a
Major
, during the
Masters
at
Augusta National
next week. He intends to  phase out the controversial Belly Putter ahead of a proposed ban by the
R&A
, and
USGA
.
Ernie Els / getty Images
The Big Easy
 used a conventional putter for his first three rounds at the
Chiangmai Golf Classic
in
Thailand
before taking 29 putts with his belly putter on Sunday in a closing two-under-par 70 to finish tied 14th in the
Asian Tour
event. Ernie explained about that last round use of the Belly Putter, and also said he went to Thailand to get his swing under control;
"I just wanted to play with the belly putter since it was my last competitive round before the Masters. Mentally, I was going to do the long putter at the Masters. I wanted to feel what it is like under a little bit of pressure. So far this year I've played some decent golf in parts, but I'm not quite there on the consistency front. All you can do is keep working hard, though. As we saw last year, your fortunes can change quickly in this game. I came here to get my swing under control, which I think it did. The short game is not too bad, everything is kind of there, it's just the confidence search now. I'm hitting it nice again, I'm really glad I came here. I've had a great experience in Chiangmai,  I just wished I made more birdies."
If you are still searching for a new putter Ernie, take a look at our website, and contact me.
Phil Mickelson
has changed to a jumbo grip on his putter, but intends to keep using the claw grip, he explained;
" I'll go back and forth because, again the claw grip, what it does is gets me in a better address position where I get rid of too much forward press.  I want a little bit but not as much as I've been getting."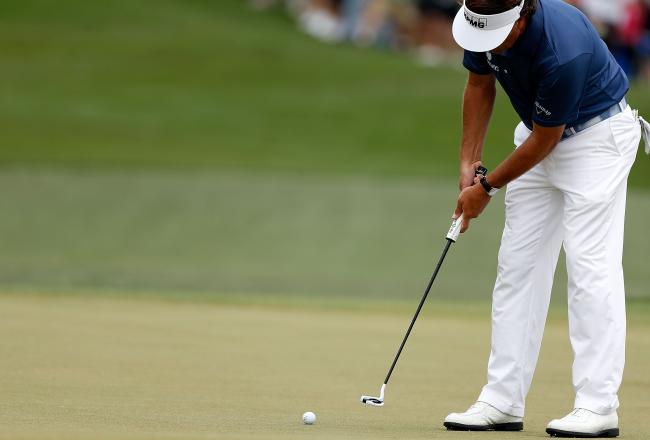 Phil Mickelson
and jumbo grip / Scott Halleran / Getty Images Looking at
Phil
in the picture above, I think he is a little too bent over, he needs to stand taller, looking straight down at the ball, this will free up the arms to get a nice pendulum motion. He looks to be reaching for the ball, standing taller will get his feet closer to the ball.