Lydia Ko @ New South Wales Open, Australia
January 28 2013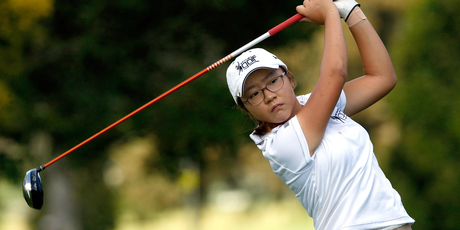 Lydia Ko
/ Brett Phibbs Ladies World number one amateur,
Lydia Ko,
came really close to defending her title here at the
New South Wales Open
in Sydney on the
Oatlands Golf Club
course. Lydia made history last year when she won this title as a 14 year-old, becoming the youngest winner of a professional  event.
Lydia
was beaten in the final two holes  by Swedish professional player
Caroline Hedwall
, the pair were level going into the last two holes of the tournament, with Caroline eventually winning by two shots. Caroline said it had been exciting; '
' It was exciting the last time and it was quite exciting this time too,  it was fun, I enjoyed it. 'I thought about the last time I was here two years ago, when Lydia was one-up going to the last one, so I knew I had to hit it close because she can make a birdie on this one and I can make a bogey so I hit a great shot and that set up for a nice birdie putt and put a lot of pressure on her for the last one, so it was a nice way to finish. 'I really enjoy those situations. I love being under pressure, that's what I practice for."
Caroline Hedwall 
Lydia
said in interview that she had been happy with the way she had played; "
I think I did pretty good, I would have liked to have some more putts go in, but golf isn't an easy game where everything goes the way you want it to. I play well here, I came second two years ago, first last year and second this year, so I think it's a pretty good tournament. I haven't played like this in one tournament before, so I'm pretty happy and I think I played some good golf out there."
The trouble started when her tee shot hit a tree, and from that position the ball found the greenside bunker, and the normally unflappable Lydia admitted she may have been affected by the prospect of victory while standing over her par put.
" I was like, 'oh my God, maybe I could win this', but I think I got a little bit excited and a little bit tense in the shoulders and it went straight left. I had a good put and it just lipped out."
Lydia
will now head to the ladies masters in
Queensland
this week, before playing the
New Zealand Women's Open
at the
Clearwater Golf Club
in
Christchurch
from February 8-10.