Jimenez breaks Leg, McIlroy breaks Engagement Rumor
December 31 2012
Miguel Angel Jimenez
and
Hong Kong
trophy/ AP Photo/Kin Cheung
Miguel Angel Jimenez
has broken his right shinbone, while
Skiing
, and will be out of golf for up to five months of the 2013 season, recuperating  from the injury. Miguel took it all  in his stride, saying;
"I was skiing in Sierra Nevada, I lost control and fell. I felt a huge stab of pain and I knew straight away I had broken something. I broke the top of the tibia in my right leg, just where it meets the knee, and they put in two pins. It will take three, four or five months to recover and be able to return to competition. I was playing very well but, these things happen in life."
A casual statement, but I guess it's one you would expect from a millionaire, if you or me were out of work for five months it would be pretty disastrous. Amazing how many of these golfers get serious injuries, putting their golfing futures in danger, while doing some quaint pastime hobby.
Miguel
 was a vice captain on
Europe's Ryder Cup
-winning team in September, and  In November, the 48-year-old Spaniard became the oldest
European Tour
winner by capturing his third
Hong Kong Open
title.
Rory McIlroy
, the Worlds number one ranked golfer, has denied reports he is engaged to tennis player
Caroline Wozniacki
. Rory's representative  released a statement on Friday saying various media reports of the couple's engagement weren't true.
"On behalf of Rory McIlroy, I would like to confirm that he has NOT become engaged to Caroline Wozniacki as was originally reported in Australian press. Rory is in Australia to support Caroline before he heads in January to Abu Dhabi."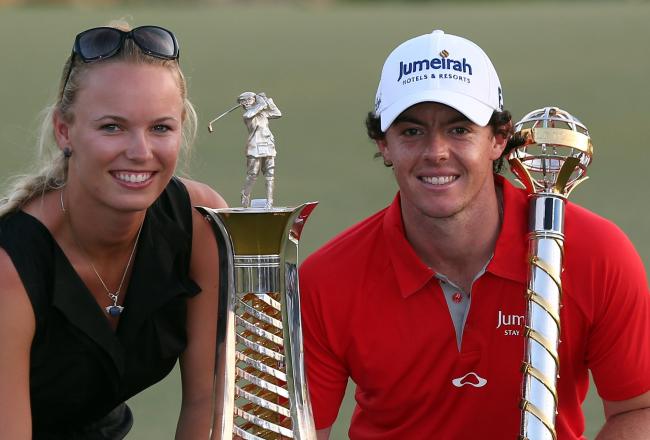 In Happier times,
Caroline
and
Rory
/ Ross Kinnaird/Getty Images Of course if Caroline thinks that they were engaged and Rory has now slapped her down in public, I guess this is the end of that little fairy story. After that terse rebuff, what girl in her right mind would now accept the proposal of such a man. Who knows this could be the last picture of the Happy Couple.