TW World Challenge, G-Mac still the Master
December 02 2012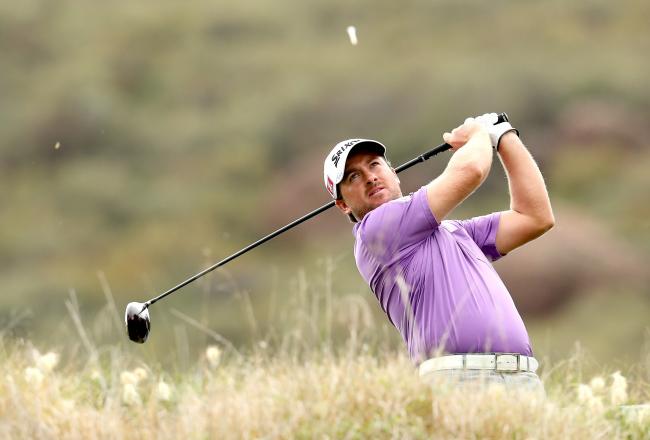 Graeme McDowell/
Dunn / Getty Images
Graeme McDowell,
G-Mac, is still the master of the
Tiger Woods World Challenge
after his third round at Sherwood Country Club in Thousand Oaks,
California
, shooting -4 under par 68 in the
Northwestern Mutual
presented event. He leads by two shots from
Keegan Bradley
. Graeme said after his round;
"If I was to get the job done Sunday I may have to stay an extra day and get a real estate agent and have a look around the area because there's something weird going on here. I think it's certainly my kind of course, there's no doubt about it. It's a course that rewards a premium on accuracy and a premium on good, aggressive iron play. I've always kind of rolled the ball here well. It's definitely a golf course that sets up well for me."
Keegan Bradley
is in second place, just two shots behind Graeme, at -11 under par for the tournament, firing a third round -5 under par 67.  Tournament host
Tiger Woods
is five back of the leader, and has some work to do if he wants to win his own event;
"I felt like I played decent enough to get to 10 under, to get to double digits, and just didn't do it, and as of right now I'm five back. I'm going to have to shoot a low one tomorrow and see what happens."
There are rumors that Tiger put his own money up with
Northwestern Mutual
 when the tournament, which began in 1999 and benefits the
Tiger Woods Foundation
, lost its title sponsor last year and a replacement sponsor fell through in September. Tiger would not reveal the numbers publicly but some say the amount required was $4 million. Tiger was coy with his answer when questioned;
"I bridged the gap on it, I'm not going to tell you the exact amount, but it's a good number. The title sponsor unfortunately fell through, but this is important for us. What's important is that if it wasn't for this tournament, we wouldn't have the success with the foundation. The learning center would not have happened. We wouldn't have gained the awareness that we have now. There have been so many kids that we have helped, just because of this event. It's important to me, to the foundation, this is what got us on the map."
The foundation built the
Tiger Woods Learning Center
in Orange County. Now there are also two campuses in the
Washington, D.C.
, area, another in south
Florida
and one in
Philadelphia.
About 100,000 kids have attended programs at the learning centers. Many of the kids have received scholarships to attend college,  many being the first in their family to go to college. The World Challenge has raised $25 million for the foundation, including nearly $9 million from
Tiger,
who has donated all his winnings in the tournament to the foundation. First round leader
Nick Watney, 
who is in seventh place in this field of 18 elite players, called Tiger's charitable donation and million-dollar infusion to the tournament;
" An incredibly kind thing to do and an amazing gesture by him. I think there will be jokes about him that he can afford it, but it's a great thing. I hope it receives the credit that it deserves, it's a credit to him and he's a great guy. Everybody in this game owes him a debt of gratitude, even though I know he wouldn't want it."
If  Tiger does shoot a low round tomorrow and wins again, everyone knows what will happen , the Foundation will receive the $1 million winners purse . I personally hope this does happen, for the Children's sake. Go Tiger