Turkish Airlines World Golf Finals, Rain Delayed
October 10 2012
A
rain
storm
has delayed the progression of the
Turkish Airlines World Golf Finals
at the 
Antalya  Golf Club
in
Turkey
. In the morning matches at the Turkish Airlines World Golf Finals at the  Antalya  Golf Club,
Tiger Woods
won his match against
Matt Kuchar
by five shots. Tiger's match on Tuesday was highlighted by an incident when the
  president
of the
Turkish Golf Federation
,  
Ahmet Agaoglu
, headbutted a photographer, just as Tiger was about to tee off on the 1st. Agaoglu announced later;
"They were pushing the security guards and one of them pushed me and I replied by pushing him back, as well. I am trying to make everything this week so perfect and it's unfortunate my reaction happened. However, I will prepare a written apology and send it to him apologizing for my own actions. While organizing such tournaments I shouldn't have to be there, but I am trying to make everything so perfect, It was unlucky it happened."
Did he mean it was unlucky to get reported worldwide for the incident. It has also been reported that Agaoglu wants Tiger Woods as the headline attraction for the inaugural
Turkish Open
 scheduled for next year, and is swooning and fawning all over the man in an attempt to lure him to the event. The Turkish Open will be an
European Tour
sanctioned event, and it has been suggested that
Tiger Woods
will play on the European Tour next year. Perhaps Tiger wants to emulate
Luke Donald
and become top of the money list on both sides of the Atlantic.
Tiger
and
Matt
, escorted by heavyweight security/getty images
Rory McIlroy
lost his match against
Charl Schwartzel
and looks certain to be eliminated from the competition, unless he can beat Tiger by a considerable score. Rory seems happy enough to spend some time on the beach with his girlfriend tennis player
Caroline Wozniacki;
"It looks like I'll get to spend a day on the beach tomorrow, which will be nice. It was actually a decent match. I felt like I played a bit better today, had plenty of chances and just didn't really hole much.I got off to a better start and Charl played solid and then birdied three of the last four so I couldn't really do much about that." Speaking of his next match against Tiger, Rory said; "I'll try and keep him out of those semi-finals, I'm sure that's not what the tournament wants but it's what I'm going to try to do."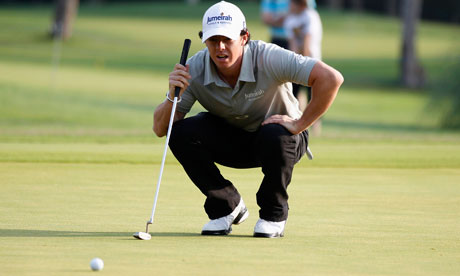 Rory
/Umit Bektas/Reuters In the other group
 Justin Rose
shot a 66, to defeat
Lee Westwood
while
Webb Simpson
carded 65 ,the lowest score of the event so far, to overcome
 Hunter Mahan
by two shots. Justin has continued his good form from the
Ryder Cup
and could easily take this tournament trophy.