Ryder Cup, There's Tension in the Air.
September 29 2012
There is tension in the air as the
Ryder Cup
 closed on the second day with the
U.S.A
. in firm command of the situation, with a little help from the officials and the rub of the green, which always went in their favor.
Jim Furyk
first objected to a ruling given to
Graeme McDowell
on gaining relief from a sprinkler head, Furyk stated there should be no relief given and called for the head referee, who then subsequently changed the original ruling. Jim said of the affair; "I looked over to see what was happening, I saw that he was going to get relief and get to probably drop the ball into the fringe so they'd be putting rather than chipping.  When I looked to see where the ball was, I believe it was a good four inches, I'm being probably conservative, four to five inches ahead of that sprinkler head. They were going to gain a big advantage by being able to drop that ball. He had a sticky lie and a very delicate chip and to be able to putt that ball would have been a huge advantage and I really didn't feel in any situation, whether it be matchplay or medal play, that it could be deemed a drop."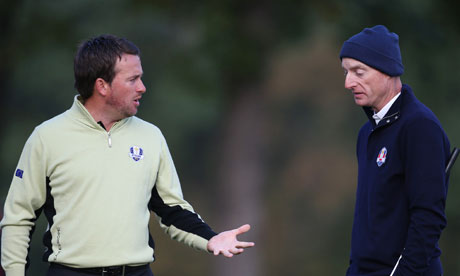 Seems like Jim wants to win at any cost. What a different point of view than that of
 Jack Nicklaus
who 1969 conceded a putt to
Tony Jacklin
, to halve the entire match.  By giving Jacklin the putt, Nicklaus made the half look less like an accomplishment by the British (who had won the cup only once since 1933) than like a personal gift from Nicklaus. It also left forever hanging the possibility that the reigning
British Open Champion
might have gagged over his eighteen-incher. That's one of the cool things about match play. Later in the day
Bubba Watson
was given relief from the opposite side of the bleachers from the nearest point of relief, he chipped on and made birdie, any complaint from the
Europeans
, no absolutely not, the referee made a ruling and they got on with it. Justice was done in the end when
McDowell
and
McIlroy
won their match. But really sad to see the lengths some people will go to just to make sure they win. As they say in America, that was a win/win situation. The affair has put
Jim Furyk
into a bad place with regards good spirit and fair play, and how people all over the world gauge him as a man. The
U.S.A
. finished the day still leading the
 Europeans
by a comfortable margin, 9-4, and it will take a super human effort from the Europeans on the last day to change the course of this match. I just hope that tomorrow some of the decisions and bounces will go their way and make it an even contest.
Tiger Woods
suffered his third straight defeat in this
Ryder Cup
, eroding his record in this contest even further, his only chance of a point will come in the singles. Tiger is, and always has been a loner, and as such he will summon the effort required to win his singles match.
Europe
managed to avoid a sweep, thanks to who else?  
Ian Poulter
 and 
Justin Rose,
who beat
Bubba Watson
 and
 Webb Simpson 1 up.
Poulter has Europe's best winning percentage in Ryder Cup play with a 10-3-0 record, and there was no way he was going to let the Americans take a point from his match. "It was absolutely key, Jose put us out No. 1 for a reason, and that's to get the point and put the point up on the board." If Ian's fighting spirit becomes contagious, the Europeans do still have a fighting chance, but no betting man would put his money on them. In the afternoon Ian and Rory secured the last point of the day, with Ian's 5th straight birdie.