U.S. Ryder Cup Captain DL111 & his Team
September 05 2012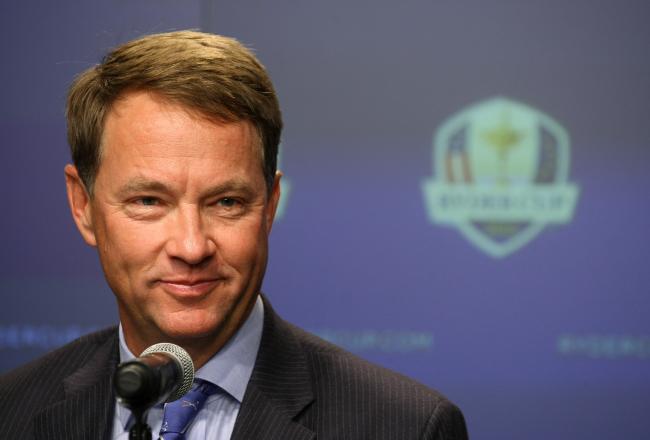 Davis Love 111/U.S. Ryder Cup Captain/Neilson Barnard/Getty Images
Davis Love 111, the U.S. Ryder Cup Captain had made his wildcard picks and now has his Team to challenge the Europeans at Medinah, starting on September 28th 2012. D.L 111 has included these players in his team as his four wildcard entries, they are; Dustin Johnson, Brandt Snedeker, Jim Furyk and Steve Stricker.
Here is the line up of both Teams;
USA                                                                         Europe 
Davis Love III (C)                                                Jose Maria Olazabal (C) Tiger Woods                                                          Rory McIlroy Phil Mickelson                                                     Luke Donald Matt Kuchar                                                         Martin Kaymer Zach Johnson                                                      Lee Westwood Webb Simpson                                                    Ian Poulter Bubba Watson                                                     Nicolas Colsaerts Keegan Bradley                                                  Paul Lawrie Jason Dufner                                                       Graeme McDowell Dustin Johnson                                                  Sergio Garcia Jim Furyk                                                             Justin Rose Brandt Snedeker                                                Peter Hanson Steve Stricker                                                     Francesco Molinari Europe have World number one Rory McIlroy at the top of their lineup, and he is backed up by other consistent players like Luke Donald, Lee Westwood and Justin Rose, the Europeans have a formidable squad. The U.S. commentators think the American Team offer more consistency from top to bottom than the Europeans, and with the likes of Keegan Bradley, Jason Dufner and Webb Simpson, it's a US squad that's not to be dismissed easily. Hunter Mahan said he felt empty when D.L. 111 told him the news of his omission from the U.S. Team; " To not be a part of it, it feels empty right now, it feels more empty being at the course. It didn't feel that bad when Davis told me because,  it ended up being a two-week trial, kind of a sprint to the finish, who was going to play the best, because I think he stated he wanted Stricker and Furyk, so there was really only two spots left, and Brandt and Dustin just outplayed me at the end of the day. I just didn't play good enough. And that's OK. It's OK to get beat by somebody. That's part of golf, and that's part of the game. But like I say, it just feels empty right now." Tiger Woods commented on Hunter's plight; " It's tough for Davis and it's tough for Hunter. Unfortunately it just didn't go Hunter's way. I know that he's pretty down about it, but he's got two big events to play in. He'll turn around and he'll just start playing well." European Captain Jose Maria Olazabal said his was surprised that Hunter was left off the U.S. Team; " They are very solid picks,  all the American players, from nine to 14 on the list, were very solid and Davis could have picked any four. The only question mark as I see it was Snedeker picked ahead of Mahan, but then Davis has gone for form. Snedeker has pretty much been playing well from the start of the summer and all the way to the FedEx series. However, Mahan has not been playing all that well, so Love went for form and in that regard, he has my respect." This is going to be a great Ryder Cup, let's go play golf.