LPGA Q-School,Rachel Rohanna 1st round leader
September 05 2012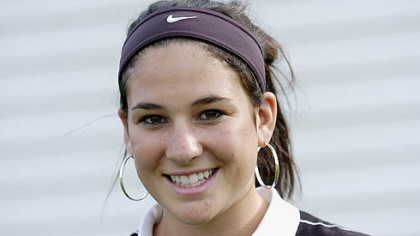 Rachel Rohanna/Rebecca Droke/Post-Gazette
American Rachel Rohanna shot a 7-under par 65 in the first round  of the 2012 LPGA Qualifying Tournament on LPGA International's Legends Course. Rachel leads by two-shots  from Lalita Patipaksiri and Kim Welch of the States and Spain's Marta Silva. Rachel explained that she was mostly concentrating on adapting to some new conditions this week;
" I knew I didn't have any experience here before so I just wanted to get down here and get used to the Bermuda grass and the weather and keep playing like I've been playing, I hit the ball really well. I just kept it simple: fairways and greens. I don't know if it was luck but I had the same exact putt every hole, a lot of 10 to 15 footers, right to left."
2012 U.S. Amateur finalist Jaye Marie Green, runner-up to Lydia Ko at the U.S. Women's Amateur last month,  shot a 2-under par 70 and sits in a tie for 12th place. Jaye Marie spoke about her putting practice and her respect for the greens;
"I have to make 100 putts before I go to bed. If you leave the greens alone, they'll leave you alone. "