Wyndham Championship, round 2, Jimmy Walker in Front.
August 18 2012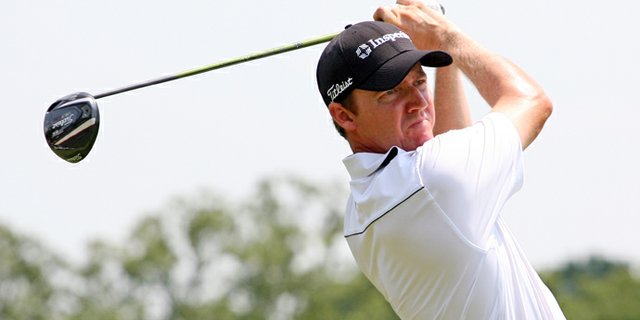 Jimmy Walker/getty images
Jimmy Walker is in front after the second round of the Wyndham Championship at Sedgefield Country Club, Greensboro, North Carolina. Jimmy had a super smooth -8 under par, 62, for a tournament total of -12 under par. He now  leads the Championship by just one shot from Webb Simpson. Jimmy  is playing well despite having suffered a torn meniscus in his left knee while making what he called a "funny step" at the HP 
Byron Nelson
 Championship in late May. He elected to have a cortisone injection the week of the U.S. Open, which took away the swelling and pain. Jimmy spoke about the discomfort he was feeling; " For a while there I was out of my routine because I couldn't bend down, I couldn't read putts the way I wanted to. I couldn't line my ball up the way I wanted to." He has  said he'll probably undergo surgery in the offseason to fix the same problem he had on his right knee a couple of years ago. Webb Simpson had a nice round of -7 under par 63, and a total of -11 under par and is alone in second spot, he is thinking about the FedEx Playoffs and also his first Ryder Cup; "Obviously right now I'm thinking about the FedExCup Playoffs but I talked to Davis a little bit more today about the team and just kind of what to expect and how I can prepare for my first Ryder Cup and, so, I'm definitely thinking about it but, you know, I'm just trying to play good tomorrow and work for The Playoffs." There are four players tied in third place at -10 under par, they are, Carl Pettersson, Sergio Garcia, Harris English and Tim Clark. Carl struggled today and admitted so; "I'm going to drive back tonight home and get some rest and see if I can find my swing on the way back. I struggled early on didn't have much today but I thought it was a good comeback shooting 4 under from nine onwards and 2-under par was okay today with the game that I had and hopefully I can hit the ball better on the weekend and have a chance. Overall, it was pretty good, there was some uncertainty for sure but, overall, I hit the driver pretty good, I'll keep it in the bag for the weekend. I got to keep playing aggressive, put the ball in play and then try to make some birdies and have a low weekend, it's nice to be up there with a chance to win."