R&A upset over Carlos Tevez as Caddy, not too bothered about long putters.
July 24 2012
Carlos Tevez, the renegade Manchester City striker made an unscheduled appearance on Sunday at Royal Lytham as caddy to fellow Argentinian Andres Romero. The move did not help Andres too much, he finished with a last round of  82, which left him at the bottom of the leaderboard of those players who made the cut and contested the final rounds. Looking at the picture he does not appear to be too upset at falling apart on the golf course.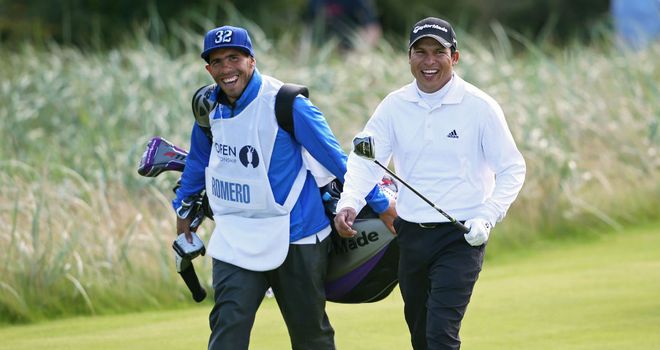 Carlos Tevez and Andres Romero/Sky
 Royal and Ancient committee chairman Jim McArthur was incensed;
" He never put the bag down, even when he was standing on the green, it's just absolute madness. I think we need to look at this particular case. We normally get a list of caddies at the start of the week." This apparently is what is most important to him, not the long putter debate. Luckily for the genuine golf fan the R&A chief executive Peter Dawson managed to put a positive spin onto the strange but golfwise harmless occurrence; "It was pretty interesting. I thought, because of the big crowd following the group, that golf fans and football fans may overlap a little more than I had realised. It's not a bad thing, perhaps." Lets all hope that Peter Dawson's clear thinking will prevail when they finally get around to debating the anchoring issue. As I reported yesterday even Ernie Els knows anchoring is cheating, he said before he swapped to the belly putter; "It's become such an easy way to putt. Nerves and skill in putting is part of the game. Take a tablet if you can't handle it." And then after he had switched; "As long as it's legal, I'll keep cheating like the rest of them." The question is, do YOU believe anchoring is cheating, or is it now just part of the game ? What do you think?