Peter Alliss steals the Show, at Hall of Fame Induction
May 08 2012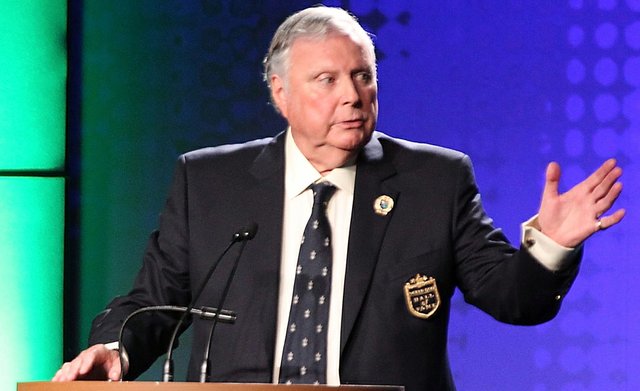 Peter Alliss at the Hall of Fame Induction, Getty Images
Peter Alliss stole the show at the Hall of Fame Induction ceremony in St Augustine Florida on Monday. True to form he recounted many a story to delight the audience, and Peter has many stories to tell, garnered during his 50 years as a TV pundit and commentator. A Hall of Fame official said;
 "We should induct Peter Alliss and Dan Jenkins every year." Or, at the least, make them part of the annual show to guarantee spewing of wit and wisdom.
Here are some of the gems Peter delivered on the night;
 "Today's keyhole journalism, I think, is one of the sad things not only about sport but about life, that somebody can be a promising young person, boy, girl, whatever; and the editor in today's society wants to find out if they ever did anything naughty when they were young. Did they ever steal something from Woolworth's, a packet of sweetie's, or did they ever have a boy-boy relationship when they were at college or girl-girl relationship, and have you got any photos?"
Then he recounted his school report from his headmistress,  Violet Weymouth, a short Welsh woman who routinely had a cigarette dangling from her lips and had a way of striking fear. Weymouth sent the report to Peter's parents dismissing the young Alliss, saying he was loath to use his brain and seemed interested in only golf and a particular girl who, in his words, helped teach him the "ways of the world." The report concluded with,
"I fear for his future."
Peter smiled, then concluded his speech;
"So mom and dad died a long, long time ago, and if there is such a thing as heaven and if people do look down, well, mom, dad, here we are. Look at this lot. Look where I've been, look what I've done. Never worked very hard at it. But it's all fallen into place. Lovely family, lovely wife, looks after me, shouts a bit occasionally. But they are remarkable. They put up with all my nonsense, and I love them dearly. "And Mrs. Weymouth, if you're there ..." And with that, he held up a middle finger for what seemed like several seconds and then walked off to loud applause. Peter is also blown away by the decline of  Tiger Woods and by the fact Woods often seems lost in instructional mechanics saying; "His golfing brain, for some reason or other is completely addled.  He was Gulliver in a land of Lilliputians. He dominated everyone. He frightened everybody. Then he gets into this trouble with the ladies and seemingly he loses it, and then he has to start again." "I'm not saying I'm a great teaching guru but,  if he couldn't be put right in an hour, I'd go home and stick my head in a bucket of ice water, because to me it's so simple. You stand and you swing. His golfing brain, for some reason or other is completely addled." He remembers being taken aback when he and Arnold Palmer watched Tiger practice on the range at last year's Masters. Tiger Woods, arguably the most dominant golfer off all time, was getting a chipping lesson. He turned to Arnold and said "Arnold, are we seeing things? Are we going mad?  It's like Pavarotti saying I'm fed up being a tenor. I think I'm going to sing as a baritone. That's not a criticism; it's an opinion. But that's why Tiger is fuddled and befuddled." He later spoke of his affection and friendship with Seve Ballesteros; "He was a dear friend of mine, but he was the tightest duck-assed fellow I ever knew in my life. He had millions. He had two cars in his garage. He had a Lamborghini and a Ferrari, and I think they both had about 3,000 miles on the clock. And a Range Rover. He said, 'They use too much petrol. I can't afford that petrol. And he was the 840th richest person in the world, or whatever it was at that time."