Rory Rory McIlroy or Lee Westwood could take over No. 1 this week
February 23 2012
With a win in the Accenture Matchplay Championships either Rory McIlroy or Lee West wood will take over a World #1 this week. Luke Donalds early exit from this competition gives both of them the opportunity to take the coveted  # 1 spot in the official rankings. What a great competition this turning out to be, except of course Tiger Woods fans, who watched him miss a simple 5 foot putt, to hand the victory to Nick Watney, Nick now faces Lee Westwood in the next round.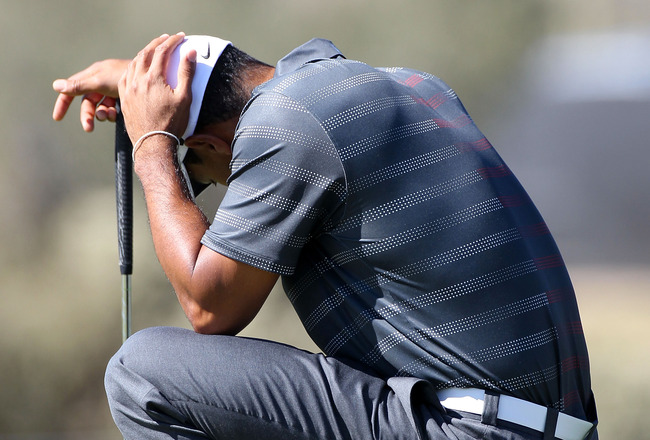 Greenwood/Getty Images Rory McIlroy, who was aware of the possibility of being #1 before the tournament began was determined not to let the ranking become his primary focus "To be honest, I came in here yesterday and talked about if I play well and just win matches, that will take care of itself. But obviously it's another incentive waking up each morning and knowing that if you win your match at the end of that day, at the end of the week you could be World No.1. Yeah, I haven't really thought about it. I saw the result on one of the scoreboards on 17, I think. So, yeah, we'll see what happens. I have to get through a lot of matches before that. But it definitely gives me an added incentive this week." Rory will face Miguel Ángel Jiménez in the next round after his win over  USPGA champion Keegan Bradley.
PETERSEN/GETTY IMAGE Lee Westwood said about his progress that in 11 years of trying, the world No 2 had never reached the third round in this ultimate test of head-to-head nerve, until his 3&2 dispatch of Sweden's Robert Karlsson sealed his place in the last 16. "I feel like the first man on the moon. It's one giant step, through to Match Play on Friday. I need more clothes, I didn't pack for long enough." Lee's big problem is he now faces Nick Watney the man who has eliminated the Englishmen two straight years. Steve Stricker on his 45th birthday also progressed to the next round after drilling in a 21 foot putt on the 18th to defeat Louis Oosthuizen.
GETTY IMAGES Lee Westwood                                                                                                  Nick Watney Steve Stricker, celebrating his 45th birthday,  drilled in a 21 foot putt on the 18th green to defeat Louis Oosthuizen, and after his first round drubbing of Luke Donald, Ernie Els had to taste some of the same medicine as he went down to Peter Hanson, 5 & 4.