McIlroy has early edge in Race To Dubai
December 08 2011
Rory McIlroy shot 66 in the first of the Dubai World Championship just two shots of the lead of Peter Hanson. Rory was really happy with his round. "It was a perfect start to the tournament for me," said McIlory, who has been complaining of fatigue from a lingering virus."To shoot a great score like that really sets me up nicely for the next three days. The back nine was just pretty much flawless. I held some really, really nice putts. Just giving myself chances and opportunities for birdies, and lucky enough I was able to make a few." Luke Donald had a mixed round to finish with 72 and a share of 26th place. The sad death of Lukes father and then the birth of his daughter two days later has left a deep emotional experience to be overcome. Before the golf he spoke about the two very different emotions.
"For it to happen only a few days before my daughter was born, there was a wide range of emotions," he said. "It's something you can't ever prepare for and it was very, very sad.
"I lost a good friend in my dad — somebody who, I think, brought me up in a proper way as he was with bringing me up as a decent person, with good morals, setting an example for a way to live. He taught me to treat people as I would want to be treated myself. That's something I will always remember my dad for."
He was not too happy with his on course experience. "I played solid the front nine and hit a few shots that cost me, poor drives on 14 and 15 and it was bit of a loose back nine, unfortunately. But trying to get better from here on out."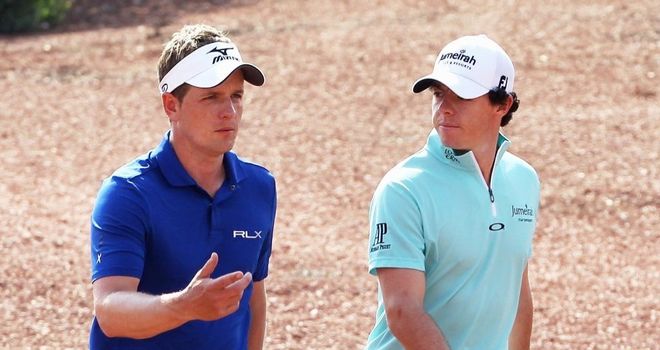 Rory McIlroy (R) finished the day six shots clear of Race to Dubai rival Luke Donald (L)
http://www1.skysports.com